A very warm welcome
Living at the Quinta da Horta is probably a very different kind of holiday for most people. We must stress we are not a luxury resort hotel, just a farm where we entertain a few guests. If you are looking for luxury and sophistication, we're perhaps not for you. But if you value natural pleasures and simplicity, we're sure you'll enjoy relaxing in our small paradise.
We believe that the essence of the Quinta is the feeling of a shared community that develops after a very short time with most of our guests. Whether you come as a couple, a family or just on your own, we're sure you'll soon experience the feeling that you're at a house party in the sun. Although around and about at the Quinta clothing is a purely optional accessory, the emphasis is on the word optional, there's never any pressure on guests who simply feel more comfortable wearing clothes.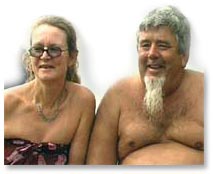 We've been here in Portugal for nearly twenty five years after leaving the UK to sail around the world. We got as far as Portugal and we were so enchanted by this area that we decided to stay! We think we've found the Portuguese equivalent of 'The Good Life' in the Algarvian sunshine and we're very happy here..

We do hope that you'll enjoy it too.