What you can do … out and about
Many of our guests are happy to do their own thing, perhaps just to lie in the sun and laze on the beach or around the pool. Some prefer to explore the surrounding countryside or take part in some of the many sporting activities available locally.
The local beach is a haven for windsurfers and water skiing, whilst the West coast beaches are a surfers dream, the small cliff screened coves have crystal clear water for snorklers and quiet sun bathing.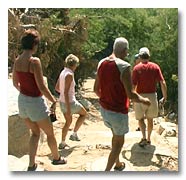 The Monchique mountains are ideal for walkers, mountain biking and pony trecking and regular bird watching walks are available.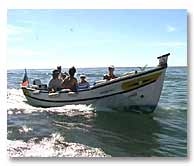 We are only a few minutes walk from the mouth of the Arade river, gaurded over by an impressive Morish castle and there are many boat trips available up the river to the historic walled city of Silves with it's splendid cathederal and a castle that pre-dateds the Romans.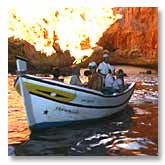 There are also opportunities to take fishing boat trips along the coast exploring spectacular cliff formations and deep clear water caves.
A regular ferry service serves Culatra island where for about 1 euro you can spend hours exploring the tidal harbour and nature reserve.
And should the attraction of these natural pursuits begin to pall, we are only a short drive from the bustling night life of Pria da Rocha with its discos, water slide parks, casinos and bustling restaurants.