Naturist Enjoy a slower pace
David and Frances, the proprietors of Portugal's only clothing optional holiday farm, Quinta da Horta, set off with John and Margaret, the owners of Pevors Farm Cottages, the unique Naturist Retreat outside Halstead Essex to link up these two centres of nude freedom and naturist excellence. They plan to travel by horse drawn coach between the two farms but it is not yet certain how long the journey will take.
"We had planned to make an early start to avoid the heat" explained David from his coachman's box, "But we ran into problems at the outskirts of the village. The charges on the new toll road to Lisbon are a bare faced cheek and John didn't bring any of these new fangled Euros with him, so we're a bit stuck really"
"But we are travelling light to keep the load on the horse to a minimum" added Margaret, clad in a rather dusty sun tan.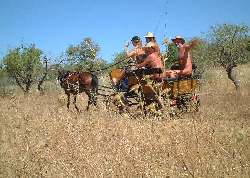 It is not known exactly how long the journey will take and it may have to be split into stages.
"We both have a lot of guests to welcome over the next few months, and it won't hurt if David sheds a few more kilos before we reach the mountain stages" commented John, in charge of the wine cellar and navigation.
"We have been trying to tempt him with a very light walnut and chive soufflé but as soon as we turn our backs he's into the steak and ale pie" commented Frantic Fran,the real Naked Chef, in charge of catering. "David's going to be very upset when he finds out the horse has had his pie" she moaned "I wouldn't be surprised if he doesn't end up eating that horse, then we'll never get there."
You can follow this epic nude journey by visiting the News page