News and events
Want to run your own Naturist Holiday Centre
After 25 years of fun and more friends than we can remember, we are retiring from The Quinta da Horta and running the famous House Party in the Sun. We are looking forward to a calmer pace of life and are moving permanently to our horse ranch in the Monchique Mountains but we very much hope the Quinta will continue as a naturist corner of paradise in Portugal. We are looking for someone to rent the Quinta, which is fully equipped and ready to party and hope the new hosts will carry on with our naturist ideals.
"On the other hand we have had interest from art schools, holistic health organizations and even a swingers club, as we have always said the only rule at the Quinta is no rules! But having put over 20 years of work into the gardens and landscape we would love to see our successors keeping paradise open for many more naturist to enjoy. We have many provisional bookings for next year and hope not to have to disappoint them. We hope our old guests will be able to return and enjoy the naturist paradise we have been lucky enough to have enjoyed building for years to come."
Changing career, moving abroad are big steps and the Quinta da Horta is offered on a yearly contract with options to renew so you don't have to sell up and burn your boats but if you have ever dreamed of spending almost your whole life naked in the sun, working and socializing, this could be your ideal opportunity. Interested? Drop us an email, outlining your ideas for the Quinta and let us know a little about your circumstances.
The Quinta has enjoyed a splendid season so far and hopes that many old guests will be able to return for at least a few more of Fran's fantastic suppers around the pool or a final diner in the Bare Bum Bistro. Quinta da Horta is open until the end of October and provisional bookings are being taken for next year. We are accepting provisional bookings without deposits. When we have found suitable successors to host the 'House Party in the Sun',they will confirm reservations and you will have the opportunity to cancel or confirm.
The final Rude Food festival 15/18th October 2010
In anticipation of our forthcoming retirement we are planning the final Rude Food festival. To tempt all lovers of good living we have organized another Rude Food Festival at the Quinta da Horta's Bare Bum Bistro From supper on Friday 15th October through to breakfast/brunch Monday 18th October.
We are offering 4 days and 3 nights of good food and good company with scrumptious country house breakfasts and delicious 3 course dinners served with a choice of really good local wines each night for the incredibly tempting inclusive price of €150(£120 at today's rate) per person.
The statistics show we have on average 7 hours sunshine daily during October and average maximum temperatures of 22ºC – 72F. Of course you are welcome to stay longer or arrive earlier, just add on our normal B&B rate(€32 single or €29 double) for each additional night, to your holiday cost.
Kundalini Yoga Workshop 29.th June- 5th July.2011.
For the third successive year this popular event with Piret and Margus from Estonia studied 2 years as a kundalini yoga teacher (in London, Karam Kriya School) and will lead another specially dedicated week long program with a unique vegetarian menu This week for Estonian speakers only. English Language workshop dates to be announced, mail us for details.
Want to run a workshop? We offer special facilities for group leaders to assist them in organizing their own workshop program. We offer group discounts on accommodation bookings and logistical support. Contact us us with details of your project.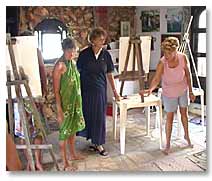 We occasionally organize workshops and courses in disciplines as varied as life drawing, miniature portraits, tile painting, stone carving, poetry writing, yoga, aromatherapy, cookery and carriage driving.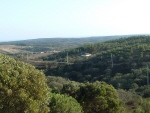 Tours can be arranged on any day, with a minimum of 3 guests. And leave the Quinta at approximately 10:30am, leaving plenty of time for a leisurely breakfast.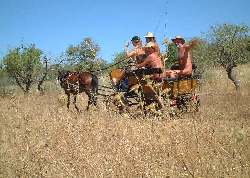 For details of our horses riding and carriage driving holidays
For special naturist riding or carriage driving experience click here