Workshops program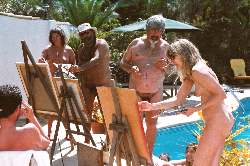 Whilst every effort has been made to be as accurate as possible the dates and workshop leaders are subject to change. when we are in a position to finalize all these workshop arrangements we will amend the website accordingly.
May 16th/17th/ 18th _______________ Garden Landscape Workshop
A chance for those who enjoy being active on holiday and to enjoy helping to create a new feature in our naturist nature reserve. A lot of hands-on experience and a hearty picnic or barbeque lunch
Free to Quinta Guests _____________________ Non residents Euros 120
May 22nd/24 th/26th ________________ Carriage Driving experience
A chance to learn a little of the ancient art of carriage driving and to view breathtaking and remote countryside from the comfort and ease of our superbly restored, classic carriages. No experience necessary.
Free to Quinta Guests _____________________ Non residents Euros 250

May 29th/31st/ June 2nd ______ Massage and aromatherapy workshop
Learn the techniques and secrets of aromatherapy and other holistic specialities.
After a short introduction and theoretical run through of the basic principles students and guests will learn the practical elements with as much hands-on experience as possible.
Free to Quinta Guests _____________________ Non residents Euros 180
July 3rd/4th/6th ________________________ Studio Arts Workshop
A chance to learn new techniques or even a new hobby. To work under the guidance of our resident artist and try your hand at life drawing , Portraiture and sea scapes. No experience necessary.
Free to residents (Small charge for materials) __Non residents Euros 150
July 11th/12th/14th _________________ Beginner's tennis workshop
You don't have to be young and fit. Our coach is and he'll do the running for you! A gentle introduction with plenty of scope for both the experienced and beginners culminating in a fun, Heat of the Night Tournament.
Free to Quinta Guests _____________________ Non residents Euros 120
Ongoing activities
Aqua-aerobics – Most mornings in between arranging breakfast and picking that days' vegetables Jill our assistant 'Real Naked Chef' can be found in or around the pool organizing her aqua aerobics group. This can be at a pace to suit yourself and exercising in our warm pool certainly helps work off the evils of last nights dinner.
Mini gym – If you don't like doing your exercises under water we have a new mini gym located in the old stables.
Naturist Nature Trails – Keith, our new naked park ranger will be pleased to guide and advise you on walking routes that will give you the maximum enjoyment of both the plant and animal life at our new Forest Lodge naturist nature reserve.
Wanted enthusiastic workshop leaders to inspire our naturist guests. Special discounted holiday rates for workshop leaders. Contact us.
Workshops are by no means compulsory
It's your holiday! You may prefer to sit back
relax and enjoy superb food and good company